Campaigns are exclusive to Sendwithus Premium accounts. Contact sales@sendwithus.com for more information.
---
Sendwithus allows you to preview your campaign by showing you a subset of customers from your CSV. After you've created a campaign, click on the "Actions" drop-down menu and select Edit.
At the top of the Configure Campaigns page, click Preview.
The Preview page has two tabs:
Preview Recipients Shows a subset of emails and any data associated with the campaign.


A preview drop down will appear when you hover over a recipient.
Send to myself — Sends a preview email using the customer's data to an email of your choosing. For example, you can input your own email or a team member's email here.
Template HTML — View the email with the customer's data.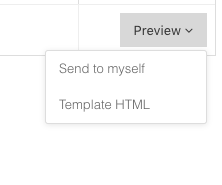 Recipient Errors Shows any errors in processing the CSV. Sometimes an email address will be invalid or there's malformed data. Always make sure to check this page.


Related Articles